Seniors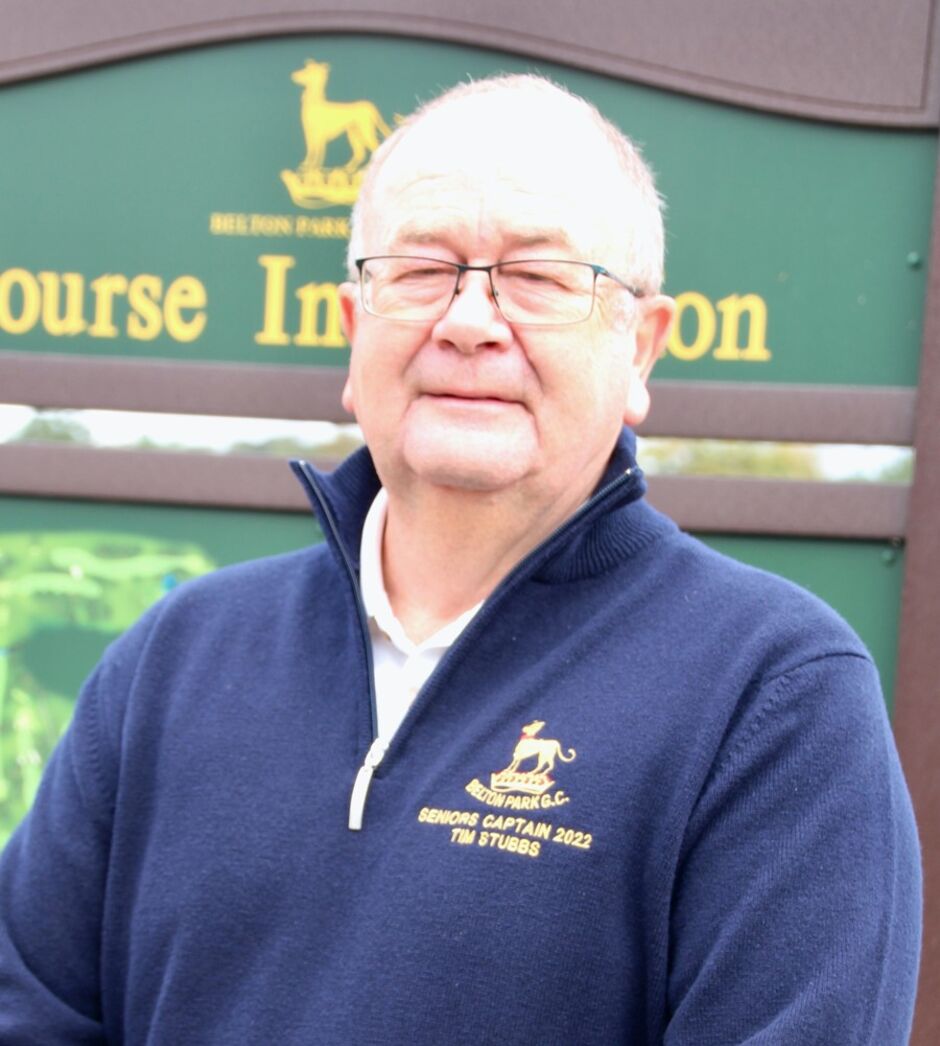 (Seniors Captain Tim Stubbs)
It's an honour and a privilege to have been elected Captain of Belton Park Seniors Section for 2022.
I shall be guided by the values of the Seniors section, namely; fun, integrity and honesty. Along with Vice-Captain Mike Bower, and the support of the Seniors committee, we aim as a team to continue to provide an enjoyable sociable environment where all members can enjoy their golf.
The Belton Park Seniors section was formed in 1975 to provide members who have reached the age of 55 the opportunity to meet, relax, and enjoy a mix of social and competitive golf with new and long-standing friends. We currently have over 100 members who enjoy golfing and social events at our great club.
In the coming season, we will continue to meet on Tuesday mornings for competitions and will play our golf in a variety of formats designed to appeal to golfers of all abilities. It is hoped that the "unofficial" Seniors roll-up on a Thursday morning can be "restarted" in the near future. This is a social roll up with a draw carried out by the Belton Park flag.
Throughout the summer, our friendly matches against senior teams from other clubs in the local area will now be played on a Thursday morning to reduce pressure on the golf course on the busier Tuesday mornings. Our full programme of events can be found on the club website on the Seniors start sheets page and I hope that members will continue to support us by signing up for matches.
In order to be a member of the Seniors section, there is a small annual subscription of £5.
As we commence the new Seniors golfing season, Belton Park GC is embarking on a number of significant changes to the way it operates. Not least the way golf is managed across all 27 holes of the golf course. The introduction of the intelligentgolf management system to replace BRS, Club V1 & our existing club Website and move all of these functions onto one platform, is I believe a major improvement as it simplifies all aspects of golf organisation, competition entry, payments & scoring for all members.
It is my aim to build on existing relationships & cooperate closely with other sections of the club, particularly the Belton Park Ladies section with whom we have two mixed events in our calendar.
We ask our members, whenever and wherever they are playing, to observe the etiquette of golf, support the objectives of our golf club, and maintain the facilities to the usual standards at Belton Park.
I shall be supporting two charities this year, one local and one national. My two charities are Beaumond House in Newark which is a local charity that provides supportive palliative care for patients with life limiting & terminal illnesses, and the national charity is Prostate Cancer UK which supports men diagnosed & living with Prostate cancer.
If you are considering joining us, I and all the members of Belton Park Seniors assure you of a very warm welcome. Please do not hesitate to say hello and enquire about membership, if you need more information. You can also contact any member of the Seniors Committee if you wish to join. The committee members are;
Mike Bower – Seniors Vice-Captain, Alan Addis – Treasurer, Frank Overton – Secretary, Ken Mail – Competitions Secretary, and Pete Long – Seniors Past Captain.
Finally, may I wish you all a happy and successful golfing year – I really hope you can enjoy our wonderful golf course as much as I intend to.


Tim Stubbs
Seniors Captain