Junior Newsletter, Winter 2021
Welcome to our Junior winter update and we hope that you find it interesting. After a very successful year for our juniors which culminated in us winning the County final (team pictured below with the trophy) and going forward to represent Lincolnshire in the National finals next year, it is now time to look at what is planned for the dark days of this winter. We also have a few dates for your diaries in 2022 regarding the Little Imps tour.
(Junior County Winners Photo)
Winter Programme:
Sunday 2nd January……Juniors v Parents challenge. After a gap of a few years, we are reintroducing this popular event where our juniors take on their parents in an annual challenge match. These will be four-ball, better-ball matches played on the Ancaster course (19-27 and 1-9) with two points awarded for a win and one point for a halved match and the team with the highest number of points will be the winners and will have all the bragging rights!! This competition will be open to parents that play who are not members although a nominal green fee of £10 will need to be paid on the day. Please let me know if you would like to play in this event and the draw will be done on Friday 31st.
The rest of the programme will revolve around our coaching sessions which we encourage you all to take part in. Please contact the pro shop if you would like to take part over the next three months (January to March 2022).
Coaching update for the Winter season:
At this juncture, we would like to thank Josh Smith for all the hard work that he has put into helping our juniors over the last year and we have come up with the following programme tailored to the two different classes that Josh runs.
Event for attendees of Junior Coaching session 10:00 to 10:45
General Summary
Skills Challenge Events aligned to Josh's coaching calendar (dependent on take-up/weather conditions).
One skill challenge per event.
The event will be run directly after the 10 - 10:45 session, lasting for approx. 15min
Where possible this will mirror the skills coached by Josh in the 10 - 10:45 session on that day.
Suggested challenges will include – Putting games, chipping games, straightest drive comp, bunker escape challenge. Etc.
These will be very relaxed sessions and where feasible inclusive of parents/guardians.
These challenges will take place on or around a practice chipping ground. Small token prizes will be awarded for winners/runners up for each week.
***************************


Event for Juniors with recognized stroke index or alternatively agreed on allowance
General Summary
A new competition will be run from January to the end of March that is intended for juniors who are course competent.
9-hole card to be submitted with a gross score recorded (Stableford points to be worked out on their behalf by SS)
Juniors to state on the card what course & tee markers were used (to allow course slope rating to be applied accordingly)
Cumulative scores at the end of March to decide who receives the top 3 prizes.
Monthly standings to be printed off and displayed on the Junior noticeboard (and possibly the WhatsApp group?).
Once your round is completed you will need to put the card in a deposit box which will be situated in the Junior room. No limit to the number of cards submitted "More rounds you do… More chance of winning"
We really hope that you take the time to try out one of our coaching sessions which are proving very popular with our regular attendees and remember that if you are interested, please contact the pro shop to book in advance. Our new head professional, Shay, will also be getting more involved with the junior programme and he is planning to get groups of juniors to have sessions on the new golf simulator as soon as Covid restrictions allow. This will be great fun for all juniors as well as helping them improve their game.
Diary dates for 2022
Little Imps Tour:
The Little Imps Tour is a series of six 9-hole events played at six different clubs designed for youngsters who are just entering the world of golf between the ages of 6 and 14. All are welcome whether you have a handicap or not, but these excellent events are really aimed at those juniors who are very new to the game. The dates for 2022 are as follows and we would encourage you to sign up:
Monday, April 4th at Belton Park Golf Club starting at 11.00am
April 11th at Market Rasen Golf Club starting at 11.00am
July 25th at Ashby Decoy Golf Club starting at 11.00am
August 8th at South Kyme Golf Club starting at 11.00am
August 22nd at Kirton Holme Golf Club starting at 11.00am
Other County Competitions:
As well as the Little Imps tour there is a series of other events for our older juniors and those with a handicap. The dates for 2022 are as follows:
April 8th Jennings /Peggotty Trophies - Lincoln Golf Club
May 29th Lincolnshire Boys /Girls Championship - Boston Golf Club
July 25th Stamford / Molson - South Kyme Golf Club
August 5th WOODROFFE WALTER BELTON PARK GOLF CLUB
August 19th Les Johnson Trophy - Ashby Decoy Golf Club
October 28th Patrons Cup - Blankney Golf Club
All the above can be found on the LUGC website - Juniors if you want any more detail. The event at Belton Park is highlighted as we would like as many of our own juniors to play in this as possible because it also acts as a qualifier for the Justin Rose Daily Telegraph competition.
Junior Room Update:
We are pleased to say that the Junior room is really taking shape and we now have all the honors boards on the wall and a large trophy cabinet to display all of them in. All we are waiting for now is a TV to put on the wall and a white board which will make it a welcoming environment for all our juniors.
Junior AGM
The date for our Junior AGM has been set for the 22nd January at 12.00 pm which is immediately after the junior coaching sessions. Please make the effort to attend and find out what is going on in the junior section. We will also be electing our new Junior Captain and Vice-Captain for 2022. By this time, we will also have a full calendar of events for the season which we will hand out on the day so that you have all the competition dates etc. for your diary.
We will also be presenting the Paul Woods Trophy to the winner of our Junior Knockout competition which is a brand new Trophy kindly donated by Paul's family. It is your chance to meet the committee, our professional coaching team, our Club Captains and of course, our new Junior Captain and to share any ideas that you may have to further improve our offering.
Other news:
Young Ambassador Appointment.
Firstly we need to congratulate our Captain, Emily Horsted on becoming a Young Ambassador for England Golf. This is a tremendous achievement and a real honour for Emily who will give up her time to support both England Golf and The Golf Foundation in the coming years. Emily was offered the position after successfully completing an in-depth assessment session for this prestigious voluntary role. We wish Emily every success in this new role.
Victory for Belton Park Junior
The last county event of the golfing season, The Patrons Cup was held at Blankney Golf Club, and we are delighted to say that Toby Hayle emerged as the winner, retaining the trophy that he won in 2019. Toby can be seen pictured below with the Patrons Trophy. This is another great success for one of our Juniors and our thanks go to all who have represented Belton Park so well this season. Congratulations to Toby and we look forward to even greater success for our juniors in 2022.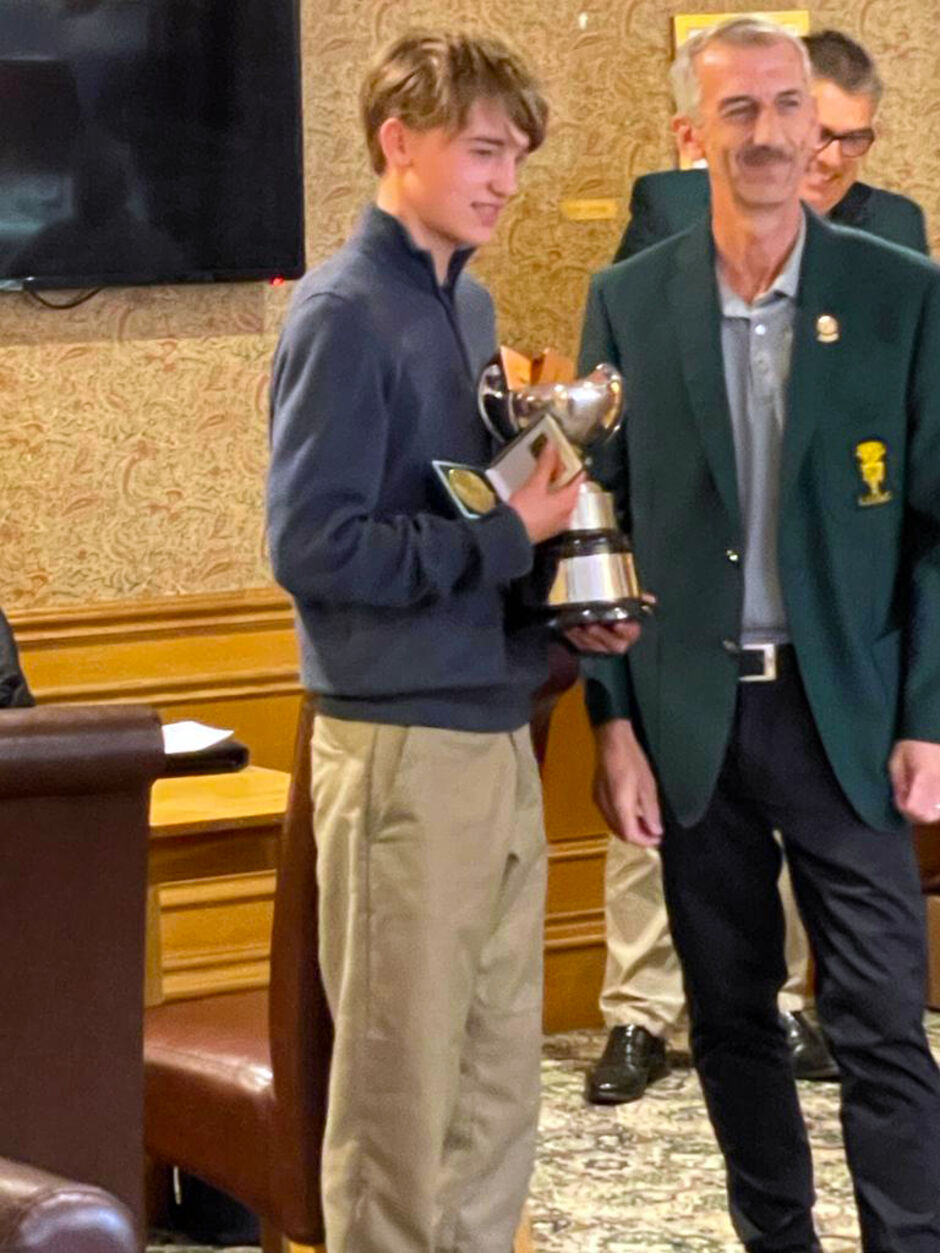 (Pictured is Toby Hayle with the Patrons Trophy)